Registration Events such as Summer Camp, Mission Trip, D-Now, Servant Ministry Retreat, YEC, Big Wall, PAY Day, Concert/Movie, Senior Trip, Winter Jam, etc.

Click on Picture for Registration Link and Details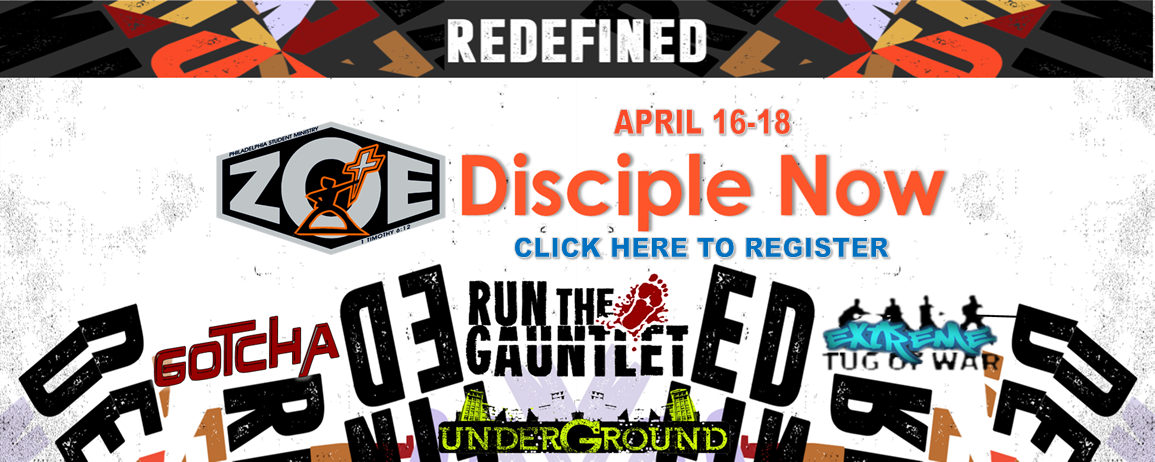 NOTE: Due to Covid-19 pandemic, changes in date/location may be made to above list of events. All registrants will be notified by email used when registering, Remind Group text, and/or letter in the mail.
Fun Fellowships
There are at least 3 outlets of fun fellowships for the students throughout the year:
The students will enjoy fun fellowships with their own Sunday School Class once every quarter.
Students have the opportunity to be a part of the larger Student Ministry Events.
Students can take advantage of separate Jr. High/Sr. High events.
Mission Trip
If a Student is involved in a Servant Ministry, they are then eligible for the mission trip in the summer! The requirements for the mission trip are: Participate 80% in a servant ministry and attend summer camp that same summer. Some past Mission Trips have been to New York, New Orleans, San Diego, and Nicaragua. All parents of these students are invited to participate on our mission trip! Some of the things we get to do are: Use our Servant Ministries in Block Parties, Vacation Bible Schools, Church Services, serve homeless people, and more!
Summer Camps
One of our most important weeks of the year is Summer Camp! All Philadelphia students need to make plans to go to Summer Camp! It is our goal to have the dates picked out by the beginning of November for the next summer so parents can make their summer plans. Camps are chosen by but not limited to: 1. Who will be preaching? 2. Do they offer a group share time? 3. Who is leading Worship? 4. How well is it organized? 5. Where will we be sleeping? - We offer a Jr. High Camp, and a Sr. High Camp.
Disciple Now
If camp is the most important event we do, D-Now would have to be a close 2nd. Many amazing memories have been made at our D-Now retreats! D-Now is a weekend event held by our Student Ministry workers and parents during the spring. D-Now is very evangelistic but also focuses on discipleship and team building. With the use of the facility at Milldale Baptist Church, we have an awesome weekend that changes our students to live sold out to Jesus. D-Now weekends include great preaching, a praise band, challenging over-the-top games, and a fun time. It is a mini-camp in a weekend that you should attend!
The Youth Evangelism Conference
YEC is a 2 day event in November when the students are out of school for the Thanksgiving Holiday. The conference starts on a Sunday night, and goes all day on Monday. The students get to hear gifted speakers, powerful worship, and awesome performers from bands to comedians. YEC is being held at the Cajun Dome this year, and has been a successful Louisiana event for the past 20 years. It is a "do not miss"!
3D Discipleship Bible Studies
There will be numerous Discipleship events each year that will concentrate on one of the Purpose Project principles. Students will have the opportunity to hear from quality speakers, Bible teachers or just a few hours with their Youth Minister. These type events will center in on strict Bible study that will hopefully yield great results in your student's life that will cause a life change.
The "Big Wall" Event
The Big Wall event is held every spring, and is where students simply get together and build a wall. But not just any big wall. It's really two big walls. After making two teams and splitting the gym floor, we take tons of cardboard boxes and duct tape, and students build giant walls and forts together protecting themselves from the other team. After the walls and forts are built, the two teams then attack using either nerf guns or dodge balls. It is epic! During this event, we get together and have great fellowship and a time of Bible study.
P.A.Y. DAY! (Parents And Youth Day)
If a family has a student in our Youth Ministry, then their whole family is invited to attend PAY Day every August! On the last Saturday of the month, we load up and head to the lake for Family, Food, and awesome Fellowship! We will come together for prayer, and then we enjoy Hot Dogs, Hamburgers, and Barbeque. We encourage families to bring their boats, and we swim, ski, and tube the entire day! This day has always been a blast!